Waypoint Thermal Infrared Inspections
Waypoint Property Inspection has received an increase number of requests to perform Thermal/Infrared Inspections for residential, industrial and commercial clients. Our clients are located from Boynton Beach, Boca Raton, Wellington, Palm Beach Gardens, Ft. Lauderdale, Miami, Port St. Lucie and all point in between. These inspections use the science of thermal infrared technology that is currently being used in the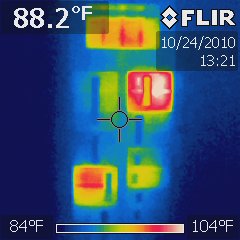 medical, aerospace and military applications. We have provided our clients, whether they are realtors, buyers, sellers, property manager, commercial owners, investors, who have a vested interest in the properties we inspected, to give them the necessary information about the thermal aspects of their properties.

Weather conditions are a major reason for having a Waypoint Thermal Infrared Inspection completed. We live in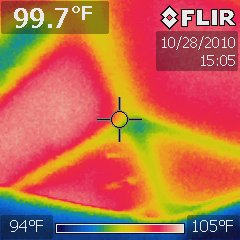 a climate has a direct effect on the homes we live in to the buildings we work in. Our weather ranges from heavy rains, high winds, direct sunshine, high temperatures and the occasional cold weather. All these conditions can have an adverse effect on these buildings.

We can provide you with the information needed to help control your energy costs as well as catch a problem with your building before it becomes a larger problem. Our regular home inspections are visual inspections of what we can see. A Waypoint Thermal Infrared Inspection can help you see what is inside the walls, roof or other areas where these problems may be occurring.

Thermal Infrared Inspections focus on but are not limited to:

Water and Moisture Intrusion behind walls

Moisture intrusion issues involving both flat and pitched roofs

Electrical system issues by scanning components for hot spots

Insulation issues in wood frame wall and ceilings to determine areas where insulation is missing or other issues being present

Exterior inspections of a building envelope to determine the tightness of the building…loss of heat or air conditioning

HVAC scans to determine if the system is "Leaking" heat or air conditioning in the living space or in the attic from the ductwork

Certified Energy Audits

And much more to come….

Having Waypoint Property Inspection East perform a Thermal Infrared Inspection can provide you with invaluable information when it comes to your building or home. Whether it is an office building in Palm Beach Gardens, a quaint little home in Boynton Beach to a mansion in Boca Raton, everyone now has the ability to find out what is happening behind the walls. Do you have a plumbing leak from improperly installed pipes, missing insulation over the master bedroom causing it to be warmer in your home or structural issue on the exterior wall of your office building, Let Waypoint Property Inspections's Thermal Infrared Inspections help you.
---
My name is Mark Wahl and I am the owner and chief home inspector of Waypoint Property Inspectiom East. I a Florida State Licensed home inspector (Florida #HI 3) and hold certifications from AMERICAN SOCIETY OF HOME INSPECTORS (ASHI249160) and the INTERNATIONAL ASSOCIATION of HOME INSPECTORS (InterNACHI06062660).
Mark has completed over 2500 full home inspections and specialty inspections throughout Southeast Florida.


---
Call Today to Schedule Your
Thermal Infrared Inspection.

SOUTHEAST FLORIDA - (561) 676-0546

mark@waypointinspection.com
Serving: Boca Raton, Boynton Beach, Lake Worth, Palm Beach Gardens, West Palm Beach, Jupiter Island,
Palm Beach, Parkland, Coral Springs, Ft. Lauderdale, Hollywood, Miramar, Coconut Creek, Jupiter, Miami,
Aventura, Sunny Isles Beach, Port Saint Lucie, Pompano Beach, Delray Beach, Lantana, Greenacres, Loxahatchee, Weston, Miami Lakes, Palm City, Stuart, Tequesta and Wellington
Bookmark/Search this post with